Feline Urinary Tract Disease: What Cat Owners Should Know
Dr. Lauren Hathaway
Feline lower urinary tract disease (FLUTD) is commonly diagnosed in cats and can have a variety of underlying causes.  As the name implies, this group of disorders involves the structures of the lower urinary tract, including the bladder and urethra (the long tube that carries urine from the bladder to the outside of the body).  Signs of urinary tract disease in cats can range from mild to severe, with even death a possibility if left untreated.
Why is my cat urinating outside of the litterbox?
One of the first signs of urinary tract disease that cat owners may notice is inappropriate elimination, or urination outside of the litterbox.  Although inappropriate urination can be behavioral in origin, it is very important for your veterinarian to exam your cat to rule out any potential underlying medical problems.  Possible causes of lower urinary tract disease in cats include:
Urinary stones
Urinary tract infection
Idiopathic cystitis (inflammation of the bladder)
Urethral obstruction (blockage of the urethra with stones or mineral plugs)
What in the world is idiopathic cystitis?
One of the most commonly diagnosed problems in cats with urinary issues is idiopathic cystitis, which describes inflammation in the bladder that occurs for an unknown reason.  This condition is still not completely understood in cats, but is believed to be related to stress.  As idiopathic cystitis progresses, it leads to significant inflammation within the bladder, along with the production of debris composed of inflammatory cells, blood clots, and mineral deposits.  If this inflammation is persistent and ongoing, enough debris can accumulate within the bladder to result in urethral obstruction.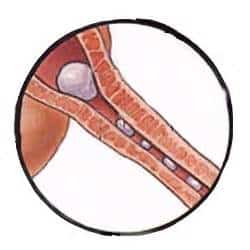 Urethral obstruction is the most serious form of urinary tract disease, and can be life-threatening.  Cats that are obstructed are unable to urinate, which means that they are unable to eliminate the body's waste products that are filtered through the urine.  Obstructions almost always occur in male cats due to the length and narrow diameter of their urethra compared to female cats. In the male, small bladder stones often cause an obstruction as they pass out of the bladder and through the urethra. Plugs of debris and inflammatory cells can also lead to obstruction.
What signs should I watch for at home?
Symptoms of lower urinary tract disease include:
Straining to urinate
Increased frequency of urination (spending more time in the litterbox)
Painful urination (crying out while attempting to urinate)
Blood in the urine
Urinating outside of the litterbox
Decreased appetite, hiding, or other behavioral changes
Cats that become obstructed may exhibit many of the same symptoms, but are unable to urinate.  These cats may show progressive clinical signs, including vomiting, extreme lethargy, or collapsing.  If left untreated, urethral obstructions are usually fatal.
If your cat is exhibiting symptoms of urinary tract disease, it is recommended that your cat be examined by a veterinarian.  Testing and treatment will be tailored to your cat depending on his or her history and exam findings. If your male cat is not urinating, the situation is an emergency and he should be examined by your veterinarian as soon as possible.