Fun for All: Doggy Day Camp at Camp AMH
As you're heading out the door to work, do you ever look back and see your dog's face as you're leaving? Ever have a twinge of guilt? Most of us have experienced this feeling and we know how hard it is to think about your pet at home all day without you.
Even though we all try and make sure we have plenty of entertainment for our dogs at home, boredom can bring out some undesirable behaviors in our pets, such as barking, chewing, and general destructive behavior. If this is a concern for you, it might be time to consider Doggy Day Camp.
At Animal Medical Hospital, we're thrilled to provide Camp AMH – a day care for your dog that's open 7 days a week. Want to learn more? We thought so!
What is Doggie Day Camp?
Simply put, a doggy day camp is care for your dog during the day. Our camp is open from 7 am – 8 pm seven days a week. While at Camp AMH, your dog gets to socialize and play with other dogs their size for at least 6 hours of fun!
Before your dog begins camp, bring your pet in to meet our Pet Counselors and let us learn a bit about your pet's personality and needs. We'll carefully observe them and then determine if your pet is compatible with our Playgroups and Day Camp packages. This initial evaluation is always free. And if you find it hard to get here before your pet's first day, we allow the evaluation on your pet's first day at Camp AMH.
All About Camp AMH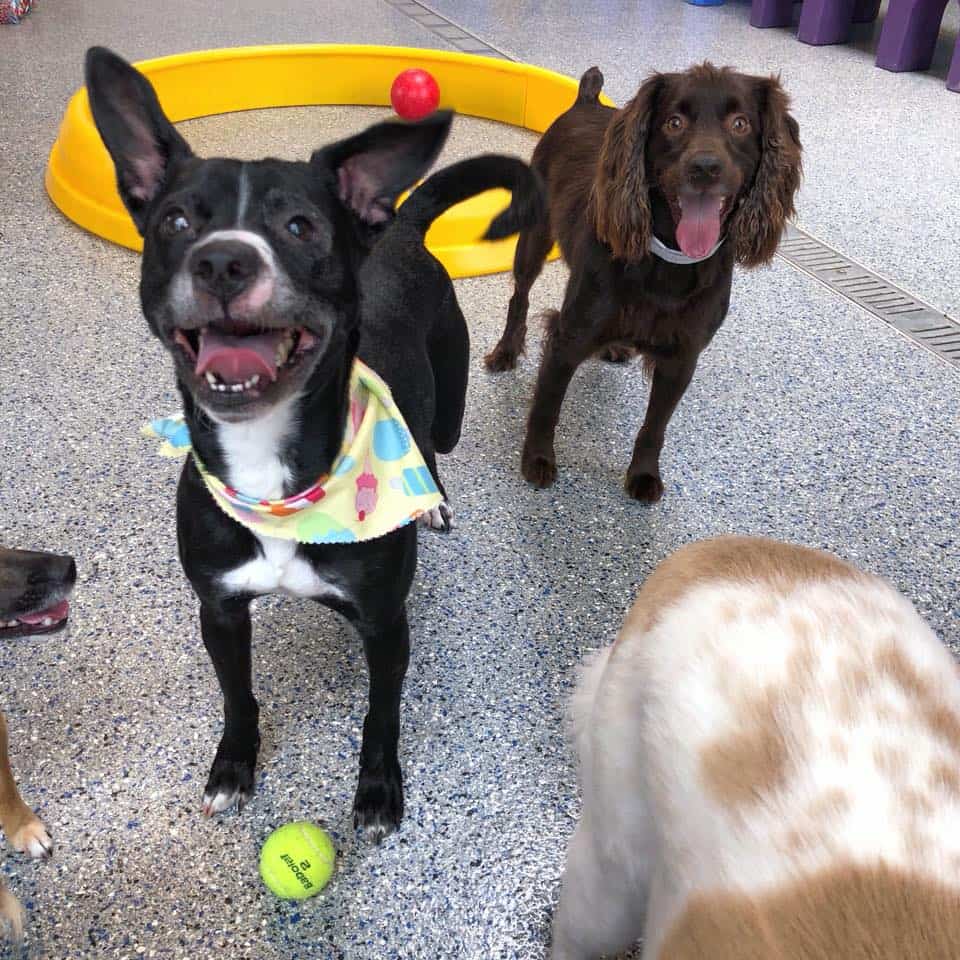 At our Doggy Day Camp, we have structured times for play and rest. During playtime, your dog will play in size appropriate play groups, in our indoor, 3,500 square foot climate controlled play area. Play will include any number of fun and safe doggy playground equipment, including pools in the summer.
The indoor area is a mix of doggy turf and smooth indoor flooring, with open windows for fresh air. During rest time, your dog will have a private Cabin or Suite.
What sets us apart?
When you're looking for Doggy Day Camp for your friend, there are several things you want – safety, professionalism, knowledgeable and caring staff, and fun for your dog. Here's how we deliver on all those things.
Trained, knowledgeable Pet Counselors – at Camp AMH, you can be assured that the team taking care of your dog is trained to keep a close eye on all the dogs and provide plenty of exercise in a supervised space.
Direct access to a veterinarian – our veterinary team is on site, 24 hours a day, 7 days a week. This means that if your dog should need emergency veterinary attention while with us, they can be seen within minutes.
Open seven days a week – busy lives continue on the weekend. We're open every day to give your dog attention, play, and socialization when you cannot.
Attention to health and safety – all our dogs must be fully vaccinated to attend Camp AMH. Puppies must be at least 16 weeks old and have completed all their vaccines. In this way, we ensure that all dogs are healthy and well before coming into contact with other Campers.
Additional convenience – if your pet is ready for any wellness care, we can schedule that with one of our veterinarians while your pet is with us at Camp AMH. Give us a call to learn more.
Doggy Day Camp can be helpful in providing a positive outlet for your dog's extra exergy, and prevent destructive behaviors that can crop up due to boredom. Camp AMH is a win for you, and for your dog. For more information on Camp AMH, or to schedule your dog's evaluation with our Pet Counselors, please give us a call. We look forward to meeting you soon!