A Proactive Approach to Holiday Pet Safety Could Make All the Difference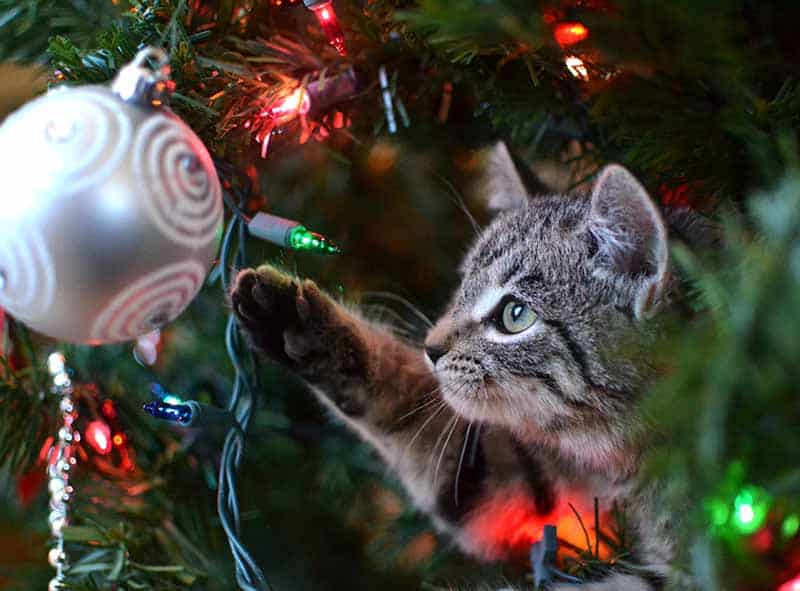 Whether you're headed to Gingerbread Lane at the Ballantyne Hotel, the Nutcracker at the Charlotte Ballet, or Christmas Town USA, there's no shortage of seasonal delights. Some very well-behaved dogs may thoroughly enjoy going with their owners to holiday events, but for safety's sake, many pets remain at home. Either way, animals are increasingly exposed to holiday-related dangers this time of year. To protect your pet this season, we'd like to offer some reliable tips for holiday pet safety.
'Tis the Season
Most of us like to decorate to get into the season and share in the spirit of the holidays. Unfortunately, many of the items that we like present serious risks to our pets.

Lights – Strings of lights on the tree or around the exterior of the house are low-voltage, but that doesn't mean they're danger-free. Be sure that lights don't dangle, creating the risk for entanglement. They should never be placed where your pet can chew on them. Any decor with flashing lights or low-hanging elements should be displayed somewhere your pet can't reach.
Tree – For many, the holiday's main focal point is the Christmas tree. However, holiday pet safety must include extreme vigilance regarding live trees, which can leach pesticides, fire retardants, and other chemicals into their water stands. Also, pine needles can cause trouble if eaten or stepped on. The same approach should also apply to wreaths and garlands. A word to the wise: fasten your tree to the wall or ceiling – pets are known for climbing!
Breakables – Christmas trees are really only festive when adorned with beautiful, shiny ornaments, but if they break, little paws can suffer lacerations. Even worse, if a pet licks up shattered glass fragments and swallows them, injuries to the mouth or intestines could result.
Tinsel – In all its enticing glory, tinsel is a formidable foe to holiday pet safety. Responsible for causing painful gastrointestinal obstruction, tinsel has no place in a home with pets. The same goes for ribbon; apply sticky bows to presents instead (but always supervise closely).
Centerpieces – Be extra careful when it comes to what is displayed on your tabletops. Sometimes, chemically treated items or materials are added to decor, causing harm if chewed or swallowed by a curious pet.
Candles – Singed whiskers? Burnt fur? No thanks! Keep all open flame candles off limits to pets. Avoid placing them on table runners that pets can pull off, as well as on shelves or tables tops they frequent. Scented candles, simmering potpourri, and essential oil diffusers can also cause irritation.
Holiday Pet Safety Rules
To prevent the need for emergency or critical care, limit your pet's exposure to potentially harmful decorative items. It's also equally important to protect them from poisonous ingredients, such as alcohol, chocolate, xylitol, macadamia nuts, grapes/raisins, and more.

For additional help with holiday pet safety, we encourage you to contact us. We're always here for you and your pet. From all of our veterinarians and staff members, we wish you a happy holiday season!