Holiday Pet Safety You Can Count On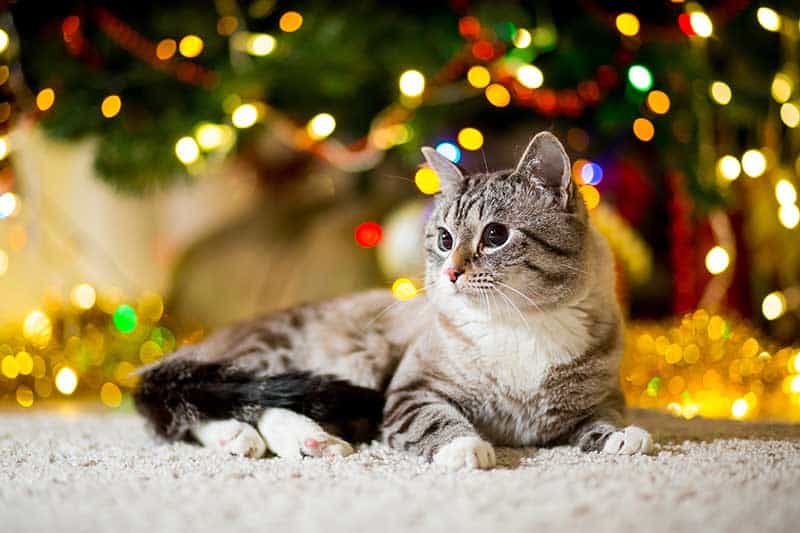 With Halloween over, many of us turn our thoughts to the upcoming holiday season. Who will host? What will we serve? Is it too early to start playing holiday music?

Although we can't help with everything on your to-do list, the team at Animal Medical Hospital & 24 Hour Urgent Care is happy to provide some tips to keep your pet out of trouble this time of year. You can rest assured that our recommendations for holiday pet safety are designed with your pet's health and wellness (and your sanity) in mind!

Our Top 10 Holiday Pet Safety Tips
The following safety tips will help your four-legged family member steer clear of dangers this holiday season:

Food – Many traditional holiday foods can be toxic or dangerous to pets, so keeping them out of reach is a must. Clear leftovers right away, and make sure garbage and compost bins are covered. Don't offer table scraps to you pet, and ask your guests to do the same.
Decorations – Ornament hooks, strings of electric lights, cords, garlands, and lit candles all pose a significant risk to your pet's wellbeing. Breakable ornaments should also be kept out of the path of curious pets.
Tinsel – Speaking of decorations, tinsel is a huge risk factor when it comes to cats, who often find the shiny stuff irresistible.
Greenery – Unfortunately, Christmas trees can present a danger to pets. The water is toxic if consumed, and pine needles can cause intestinal distress if eaten. Climbing or knocking a tree over can result in injury. Holly, lilies, poinsettia, and mistletoe are also toxic to animals.
Potpourri – Liquid potpourri is popular during the holidays, but it's highly toxic to pets and should not be used if possible (or at least placed out of reach).
Gifts – Don't leave gifts containing food under the tree, as wrapping paper, string, and tape can lead to choking or intestinal blockage.
Stress – Houseguests, changes in routine, and other holiday activities can be stressful for you and your pet. Make sure your dog or cat gets plenty of exercise each day, and strive to adhere to their normal food/potty/playtime schedule.
Parties – Pets and parties often don't mix. Consider setting your pet up in a quiet room that's far away from all the noise and commotion. You might also sign them up for a day of fun and pampering at our boarding and daycare facility.
Security – Guests coming in and out of your home can create the perfect opportunity for escape. Make sure your pet is microchipped and that it's updated with your current contact information. Have your pet wear their collar and ID tags at all times.
Quality time – Don't let the holiday season pass you by without taking time out to be grateful for your sweet pet! Extra walks, playtime, and snuggles will let your furry family member know just how much you love and adore them. Isn't that what the holidays are all about?
We hope these tips for holiday pet safety make your life a little easier. Please let us know if you have any additional questions or concerns. We're always here for you and your pet!