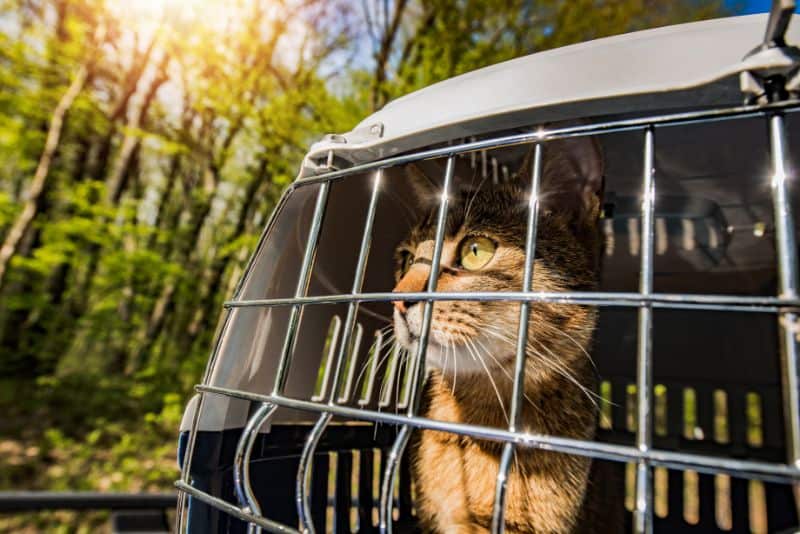 Transporting your feline friend, be it to a veterinary appointment or to a new home, isn't always the cat's meow. However, having the right cat carrier can make this harrowing task much easier. But which carrier is right? How do you know?

Your team at Animal Medical Hospital and 24-Hour Urgent Care is here to help you find the perfect cat carrier for your purr-fect pet.
Finding the Right Size
When it comes to the right carrier, size matters.

Your cat must be comfortable and secure in the carrier, while it being roomy enough for them to stand up and change positions. Carriers should be at least one-and-a-half-times the size of your kitty.

If you are purchasing a carrier for a kitten, opt for a carrier that will accomodate them at their fully grown size. If you require a carrier to be used in a hotel room or area where you pet needs to be confined for longer periods of time, opt for a separate crate for this, and use the more snug carrier for travel only.

Styles of Cat Carriers
The number of options in materials and styles are numerous, but here are some of the basic types used by most cat owners.

Soft Carriers
These carriers are made from a durable but firm cloth material, supported with plastic inside. They are not as heavy as a hard-shelled case-type carrier and can be easily washed if your pet has an accident. These soft carriers often come with more than one zippered openings, as well as mesh windows for breathability and visibility for your cat.

Hard Carrier
These hard plastic carriers are definitely sturdy and are usually the first choice for most pet owners. Hard carriers tend to have one opening, which is a retractable door with hinges made of metal and durable plastic. These are less comfortable for your pet, but maintaining them is easy since they can be submerged in water or hosed off.

Rolling Suitcase Carriers
These are great choices when traveling with your pet, particularly through airports. They, like the soft carrier, are made of durable fabric materials and plastic and offer more than one opening, which is great for pets who resist entering the side opening. Rolling your pet where they need to go is a lot less heavy for the owner, rather than having to carry them.

Cardboard Carrier
This carrier is by far the cheapest and is good for a temporary transport. Cardboard carriers come folded flat and can be assembled by tucking the corners together. These quick and easy carriers are often given out for free at veterinary clinics or other pet facilities when the pet owner doesn't have a carrier of their own. They are not meant for long term use.

Which Carrier is Right for You?
But which carrier is the right one for you? Your cat's needs should also factor in to your own preferences. For example, if your cat is a small Houdini who escapes any enclosure, the hard carrier may be the best option. Or, if you travel extensively with your pet, an airport-friendly, rolling carrier would be perfect.

No matter which one you choose, lining the carrier with towels, a blanket, or liner for your pet will provide better comfort and support. If your pet is easily carsick, choose liners that are easy to clean up. Geriatric cats may prefer a soft carrier, lined with supportive bedding. And don't forget a treat or two to make the ride more enjoyable.

If you would like some suggestions on the right cat carrier, please do not hesitate to call our team.