24-Hour Emergency Care for Pets in Charlotte, NC
If your pet is experiencing an emergency right now, please call (704) 334-4684 immediately.
Your best friend is in need of immediate medical care. Time is of the essence. You can take comfort in knowing that the emergency and advanced care team of Animal Medical Hospital & 24 Hour Urgent Care is here for you. Our staff will provide your companion with state-of-the-art medical and surgical veterinary care, giving you the peace of mind that comes from knowing that your pet is in good hands.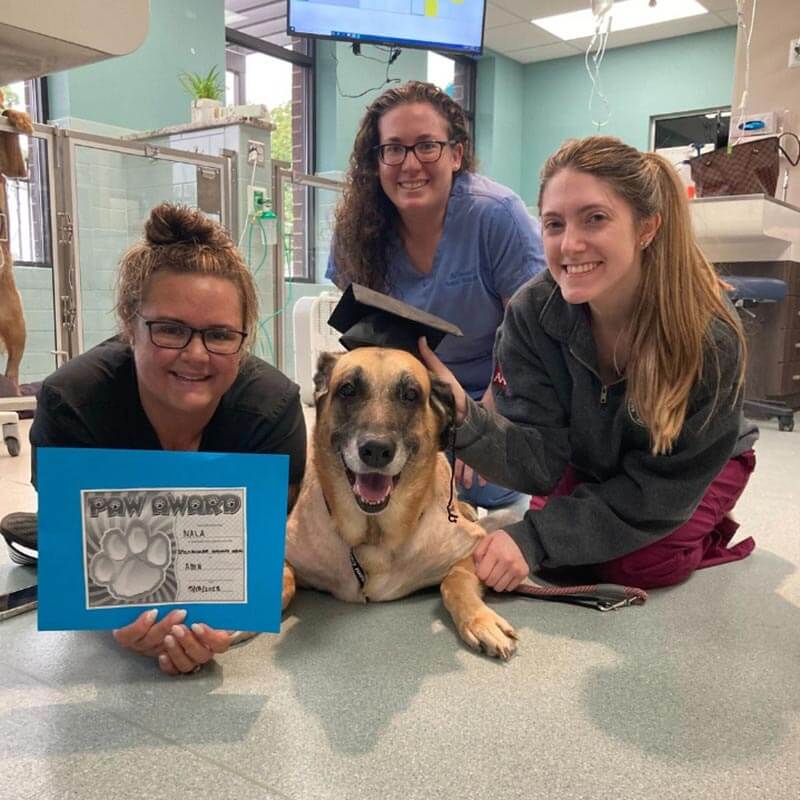 We are open to receive walk-in emergencies twenty-four hours a day, 365 days a year. We are staffed by veterinarians, veterinary nurses, and assistants dedicated to providing the highest quality emergency care during your visit. Our team receives continuing education throughout the year to provide the best possible care for your pet. Our technology, including digital radiographs, ultrasound, an in-house laboratory, and a dedicated ICU help us diagnose and treat your pet as quickly as possible in these urgent times.
Among the services available in our Emergency and Advanced Care Unit are in-house blood work, digital x-rays, oxygen, emergency surgery, and critical care monitoring.
Please note that these types of trauma usually require emergency medical attention and may threaten your pet's life if not treated:
Bleeding: Bleeding from any part of the body, or blood in feces or urine.
Coughing: Severe, persistent coughing or any choking sounds.
Diarrhea or vomiting: Continued or severe diarrhea or vomiting.
Difficulty breathing: Shallow breathing or seems to be choking.
Difficulty giving birth
Eye injury: Redness, swelling, squinting, or discharge.
Ingested toxin, poison, or foreign object: Any household or garden chemical, human medicine, or medicine overdose of any kind. Swallowed rocks, bones, sharp objects, cloth material, string, etc.
Injured: Hit by a car, hurt by another animal, or fallen from a great height.
In pain: Pet is crying out.
Lethargic or non-responsive: Cannot stand or move or is not responding to voice or touch.
Lumps: Lumps that are growing rapidly or are bleeding.
Trouble urinating: Straining or painful urination.
Weight loss: Dramatic or unexplained weight loss over a short period of time, or not eating.
Please use care when handling your pet if he or she has been injured. We encourage you to call us at (704) 334-4684 before coming in so that we can prepare for your arrival. When you arrive at Animal Medical Hospital & 24 Hour Urgent Care, we will immediately triage your pet so that we may determine his or her stability. If your pet needs to be hospitalized, the admitting veterinarian will discuss with you the proposed treatment plan.
---
Intensive Care Unit
Our Intensive Care Unit (ICU) is similar to ICUs found in human hospitals. Open twenty-four hours a day, seven days a week, 365 days a year, our ICU is equipped with the latest in diagnostic, monitoring, and support equipment. Our team of knowledgeable, dedicated doctors and nurses are always on site to care for your pet when illness or disaster strikes.
Advanced treatment in our ICU includes:
Oxygen supplementation
Blood transfusions
Advanced pain treatment
Feeding tube placement
Chest tube placement
Intravenous nutrition
In addition, our staff is trained and equipped to provide cardiopulmonary cerebral resuscitation should the need arise.
Because our doctors participate in rounds three times a day, they are able to collaborate on our hospitalized patients. They also meet once weekly to review current veterinary journals, engage in mortality/morbidity review, and analyze radiographs (x-rays) as it relates to ICU patients.
Communication between you and our staff is very important during your pet's ICU stay. Our doctors provide you with daily updates and routinely offer client education so you can fully understand what is happening. Our hospital has visiting hours from 10:00 a.m. to 12:00 p.m. and from 2:00 p.m. to 4:00 p.m., or as discussed and scheduled with your doctor.
Emergency surgery is available around the clock. We treat many emergency surgical conditions, such as:
Gastric-Dilation-Volvulus (GDV)
Foreign body removal
Splenectomy
Tracheostomy (airway access)
Pyometra
Cesarean sections
Wound management
Bite wound repair
Abscesses
Urinary surgery
Video endoscopy is also available for other procedures. This is a minimally invasive procedure that allows a doctor to look inside body cavities for disease or obstructions. This is particularly useful when a pet has a rawhide, bone, or toy lodged in the esophagus (the food tube) or stomach. Video endoscopy enables us to see inside the esophagus and, in certain cases, retrieve the object with the endoscope without having to resort to surgery. In other cases, we will be better able to judge whether the object will pass through the animal's system, again avoiding surgery.
Advanced, multi-parameter monitoring is available in our ICU. This includes electrocardiography (EKG), blood pressure, pulse oximetry, and blood gas evaluations.
Our in-house laboratory also gives our staff the capability to obtain timely and critical information about your pet's illness. This includes:
Complete blood counts
Complete chemistry and electrolyte profiles
Urinalysis
Coagulation
Blood gas chemistries
A consultation with local specialists in a variety of fields is available on a case-by-case basis.
In addition, on-site access to digital radiology and ultrasound exams further adds to our ability to make critical diagnoses and start appropriate treatment. Radiographic interpretation by board-certified veterinary radiologists is available twenty-four hours a day.
Along with expert medical attention, our patients receive all of the tender loving care they deserve every minute they are in our ICU, including: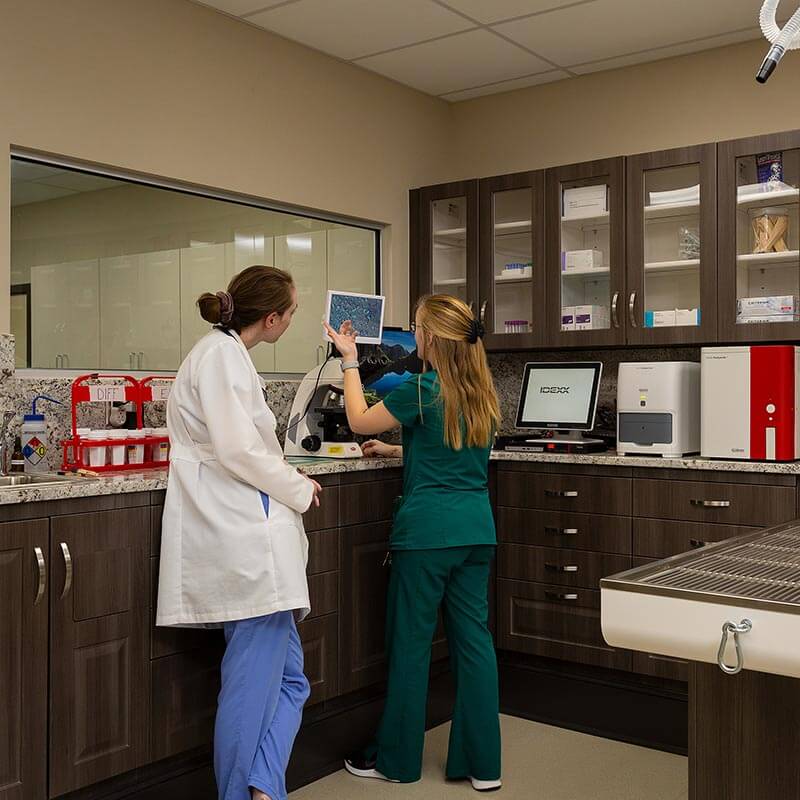 24-hour veterinary and nursing care
Respiratory therapy, including:

Oxygen therapy
Nebulization therapy
Blood gas values
Pulse oximetry

Pain management
Blood and plasma transfusion
IV fluids
Cardiovascular monitoring
Nutritional support
Our knowledgeable, dedicated doctors and nurses will go the extra mile to provide your pet with the special care he or she needs. Their focus is on helping your pet make a healthy recovery.
---