Posts Tagged: Lumps and Bumps on Pets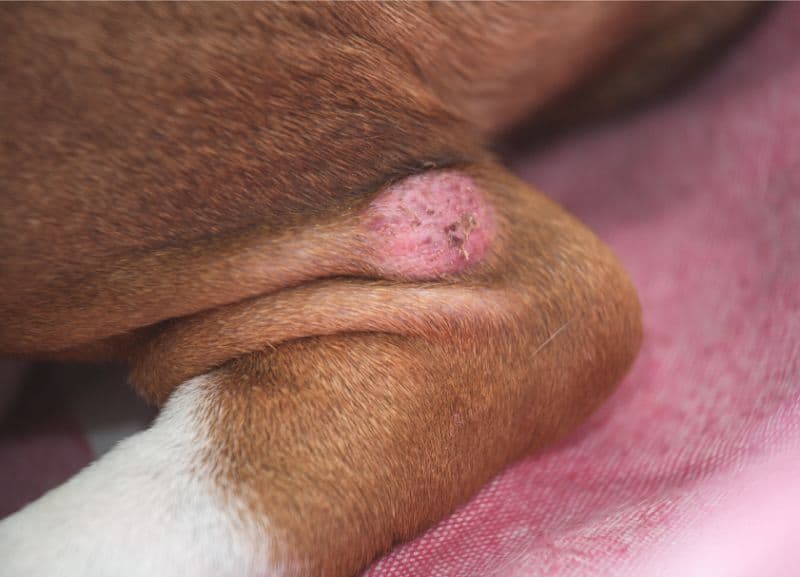 When you find something abnormal on your beloved pet, it can be an anxiety-ridden moment. Is that a tick? A wart? Cancer? Or was it always there?
When it comes to lumps and bumps on your pet's skin, Animal Medical Hospital & 24 Hour Urgent Care doesn't expect you to have all the answers, that's why we're here!
You can rely on us to help you know when to call us, when to relax, and what to do when it comes to pet lumps and bumps.
The Possibilities are Endless
There are many causes of lumps and bumps on the skin. We commonly see lesions caused by:
Bacterial infections
Parasites
Granuloma formation (reaction to foreign objects)
Abscesses
Benign tumors like warts and lipomas (fatty growths)
Cysts
Neoplasia
Even to the trained eye of our veterinary staff, it isn't always possible to know which it might be just by looking.
When we see a pet with a new lump or bump, the affected area is assessed for location, size, shape, and physical characteristics. This helps to determine the most likely diagnosis and record the spot in the medical record.
Many times a test called a fine needle aspirate (FNA) will be recommended. In this procedure a small needle is introduced into the lump or bump to obtain a microscopic sample of cells in the area. This can help us to identify infection, inflammation, and may even reveal cancerous cells.
A FNA only yields a small, focal sample however, so it does not always give us an exact answer, nor can it rule out cancer entirely. A surgical biopsy (histopathology) is often recommended if a lump or bump is worrisome based on characteristics or FNA. Sometimes surgical excision and biopsy is warranted for seemingly benign growths as well due to excessive size or location in an irritating or cumbersome area.
Histopathology helps to give us more information about what the growth was, if it is likely to come back, if it was all successfully removed, and what other treatments might be needed. It can also help to give a more accurate prognosis.
Lumps and Bumps and When to Worry
It can be very hard to know which lumps and bumps are ominous and which are harmless, even to a trained eye. Of course, if you rushed your pet in for every tiny blemish, we would be seeing a lot of you. So when do you need to get your pet in and when can it wait?
We recommend examining your pet as soon as possible if:
The lesion is growing, changing, or spreading
The lump/bump is painful or firm
The skin is red or irritated
The bumps if bleeding or has discharge
Your pet has a history of cancer
Your pet is a high-risk breed (short coated breeds such as boxers, pugs, and pit bulls are prone to skin cancer)
It is never wrong for us to examine a new lump or bump. While they are not all an emergency, they all should be looked at in a timely fashion. Some seemingly innocuous growths can be serious, and when it comes to cancer time is essential.
Give us a call to make an appointment if you have any doubts at all about whether something should wait. No matter what the lump or bump turns out to be, acting quickly often helps us to deliver the best prognosis and get your pet back to normal as soon as possible.