By Dr. Jenkins
Halloween is just around the corner, and although it can be a fun and exciting time of the year for your family, it can pose great risks for your pets! We at Animal Medical Hospital have compiled tips to help everyone have a safe and happy Halloween together.
Those goodies filling the trick-or-treat baskets may contain substances that can harm your pets.  Chocolate, raisins, and xylitol (a sugar free sweetener) are all hazardous to animal health. Even candy wrappers can be harmful if your pet swallows them. If your furry friend does get into the contents of a trick-or-treat pail, please call us or a pet poison-control hotline to determine the appropriate steps to take.
If you want to be safe rather than sorry, bake Spot a festive Halloween treat such as the Pumpkin and Peanut Butter treats featured in the link below so that he can enjoy the occasion. Just make sure your peanut butter is xylitol-free!
https://www.dogtipper.com/recipes/2010/10/peanut-butter-and-pumpkin-dog-treat-recipe.html
Let Sleeping Dogs—or Cats!—Lie
We understand that it's tempting to take your four-legged friends along for the neighborhood trick-or-treating rounds, but it is truly best to leave them at home. All the commotion of Halloween can be too much for the most well-adjusted and well-socialized animals. If your pet does choose to join the trek, make sure to outfit him or her with a reflective vest and proper identification (see below).
Whether your pet stays at home or joins the raiding party (i.e., trick-or-treating), the most important thing you can do for him on Halloween is equip him or her with proper identification. Even if Lucy stays home, she can easily become spooked by the ghoul at your door and slip outside into the great unknown. Collars and tags are wonderful, and all pets should sport them on Halloween (and throughout the year); but they can easily become lost.
Consider a more permanent option for pet identification, such as a microchip. Registered microchips can help reunite lost pets and their loving families. Another option is to equip your pet with a GPS tracker such as one of those mentioned in the Consumer Reports review below.
https://www.consumerreports.org/cro/magazine/2012/04/how-to-track-a-lost-animal/index.htm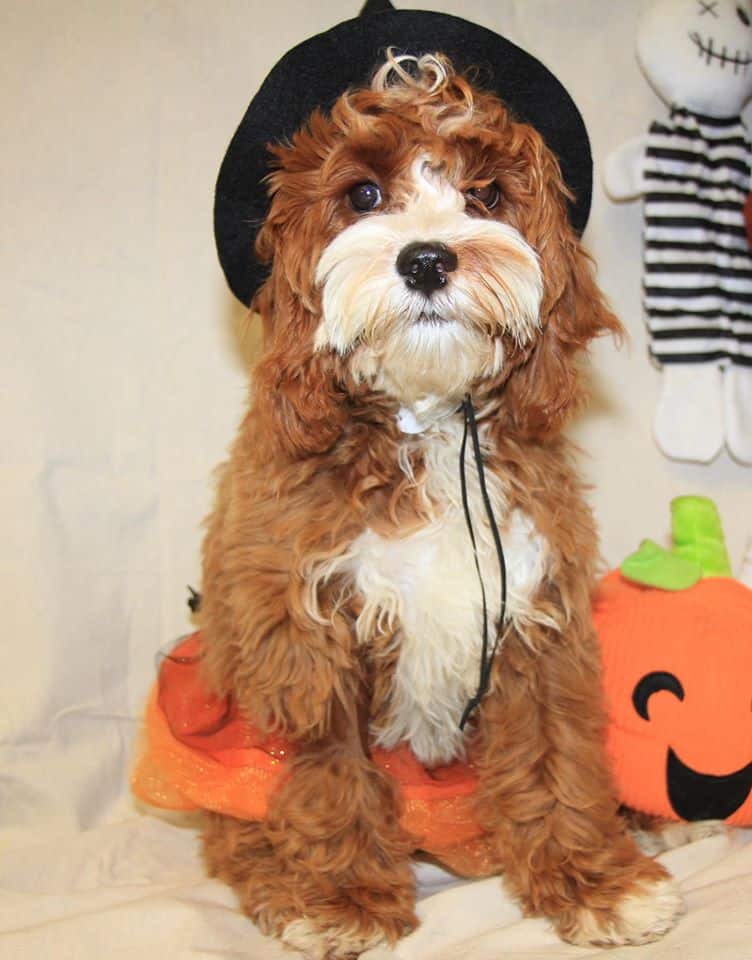 Costumes are great for kids, but they can be scary for pets. If your pet enjoys playing dress-up, make sure that the costume fits well and does not impede movement. Then supervise your costumed pet at all times. Costumes that are too large can easily get caught on objects and trap your pet. Costumes with small parts (buttons, bows, etc.) can be dangerous if your pet thinks that the small parts are treats to be nibbled.
If your pet does have a safe and well-fitting costume that he loves to show off, be sure to enter him in our Spooktacular Day Camp Costume Contest on Wednesday, October 28th!
Watch Out for Boooo-By Traps
Decorations can pose a considerable threat to your pet. Lighted jack-o-lanterns are quite festive, but they can easily be knocked over by your pet—and this could start a fire. Dry ice can set an eerie mood, but can turn the mood chilly if your pet gets frostbite and it can be fatal if swallowed or inhaled! Frayed or broken electric cords and wires for all the lights on your porch can shock your furry friends.
If you do choose to set up a Halloween display, please make sure it is puppy-proof!
Wishing you a happy and safe Halloween—from our family to yours!