Posts Tagged: Brushing My Pet's Teeth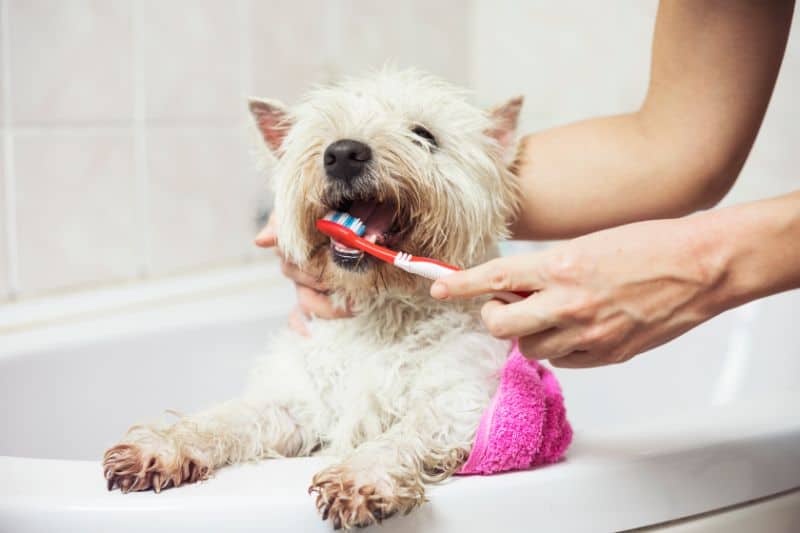 There are definitive ways to prevent periodontal disease, but like other facets of health, the journey starts at home. Sure, it can be an uphill battle to convince some pets that daily tooth brushing can be fun, but routine pet dental care, both at home and in the veterinarian's office, sets the stage for long term health and wellness.
Setting the Tone
One reason for annual wellness checks is the opportunity to look inside your pet's mouth. A quick flip of the lip can be informative, but it really is only one piece of the puzzle. We might be able to quickly ascertain that some level of dental disease is present because of bleeding or inflamed gums, or foul-smelling breath.
Continue…
We all know how important regular dental care is for ourselves and our children. We brush twice a day, floss and see our dentist annually for checkups and professional cleaning. But what if we told you that regular pet dental care is just as important?
It's true! If you imagine what it would feel like to never brush your teeth or see a dentist, you begin to get the picture. Taking good care of your pet's oral health is of vital importance. Animal Medical Hospital shows you why!
A Common Problem
Dental disease in pets is extremely common. Studies show that by the time our pets reach 4 years of age, 85% of them have some form of dental disease. But many of us don't realize this problem exists, until dental disease is advanced. Most pet owners don't regularly look into their pets' mouths, and pets are masters at hiding their pain and discomfort, making it even more difficult to know when there's a problem. Continue…